Our Makecommerce plugin gives you an opportunity to replace the standard PrestaShop checkout dialog with a much more convenient and faster Simple Checkout version.
SimpleCheckout is enabled in MakeCommerce plugin (since Presta version 1.7)  and it can be easily switched on (and also off, if on some reason it doesn't suit your needs).
How to activate Simple Checkout
To activate SimpleCheckout go to Makecommerce module settings and switch SimpleCheckout settings from "no" > "yes".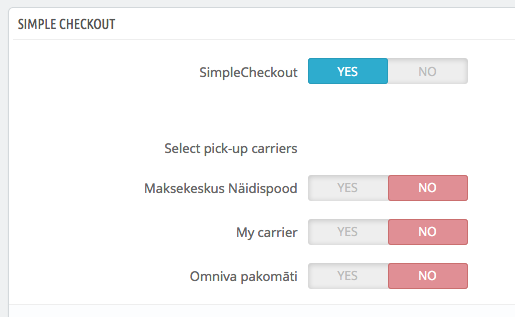 After activating, customers will be directed from Prestashop Standard shopping cart to SimpleChekout to complete their order.
For customer the order completion is extremely convenient as the data they enter are saved to SimpleCheckout and the next time they visit your store, all their data is prefilled. The service works across all shops, meaning if customer has purchased from another store that uses SimpleCheckout and now they come to your store where SimpleCheckout is also active, all their data is still prefilled and they can just click "pay" if no changes are needed.
Customer can also switch between shopping cart and SimpleCheckout as much as they want and change their order, because order is not created when directing to SimpleCheckout.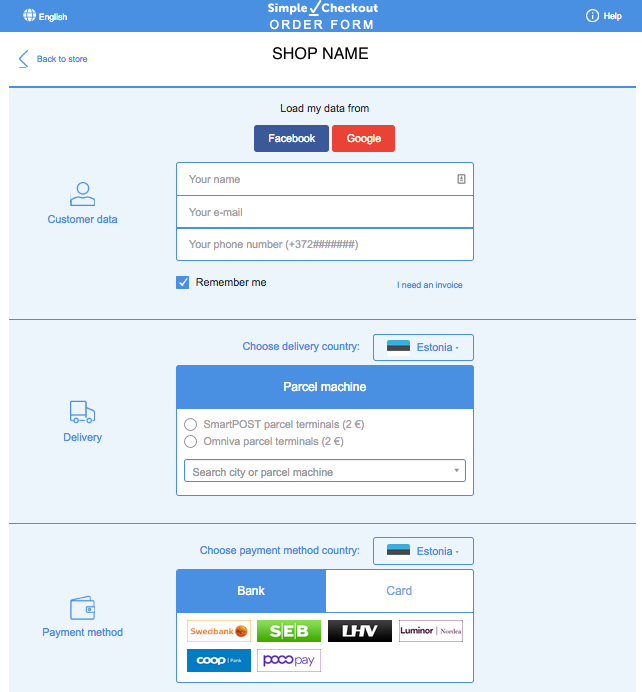 Shipping methods
SimpleCheckout works with built-in shipping methods of our plugin, but also other standard shipping methods of PrestaShop are supported:
Parcel machines of Omniva and SmartPOST
Flat rate (PrestaShop standard)
Local pickup (PrestaShop standard)
The pick-up carriers shown in SimpleCheckout settings are the ones that are listed in Shipping > Carriers menu. When you add a new shipping method to Carriers, it is automatically added in MakeCommerce module settings.
You can select "yes" or "no" for each separate shipping method.
Status "no" is used to list the shipping method to Courier tab in SimpleCheckout
Status "yes" is used to create a new tab "Other", where the shipping method will be listed.