This plugin enables you to accept Visa /Mastercard payments as well as banklink payments from Finnish, Estonian, Latvian and Lithuanian banks such as Swedbank, SEB, Luminor, Citadele. See full list of banks here
Where to get
Our plugin is still on beta stage and not published in Shopify marketplace. The app can currently be installed via this link https://shopify.maksekeskus.ee/install
How to set up
Enter your Shopify store name and click "Install". Note that the end part of your store name is already filled and you need to enter only the first part.

If your store name is xxx.myshopify.com, then only enter xxx
Read and agree to terms by clicking "Install unlisted app". This is a warning, that you are about to install unofficial plugin.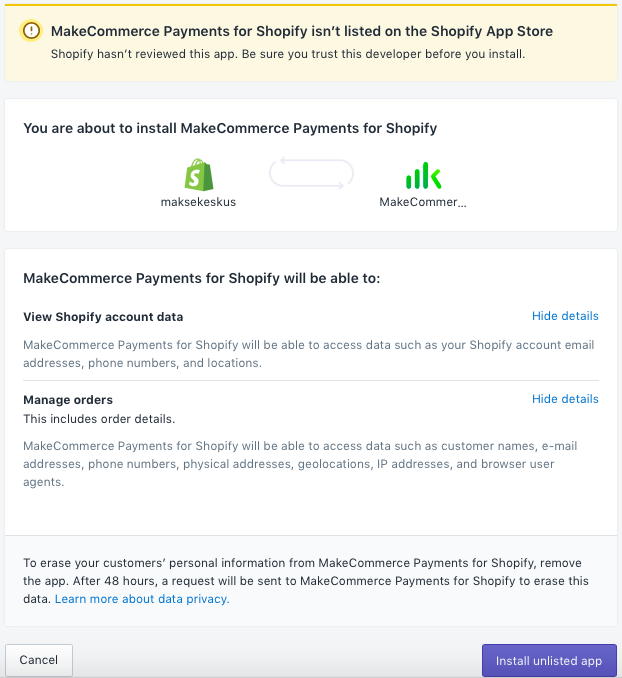 Next you are redirected to Shopify Apps section. Click on the "MakeCommerce payments for Shopify" link.

Fill the fields with your company data (name, registration code, VAT nr) and with your MakeCommerce store ID and keys.

Live API keys can be found in Maksekeskus merchant portal
If you want access to testing API, please contact support@maksekeskus.ee
If you wish to test payments choose TEST for "current environment", if you want to accept real payments, choose LIVE. Make sure API keys are correct!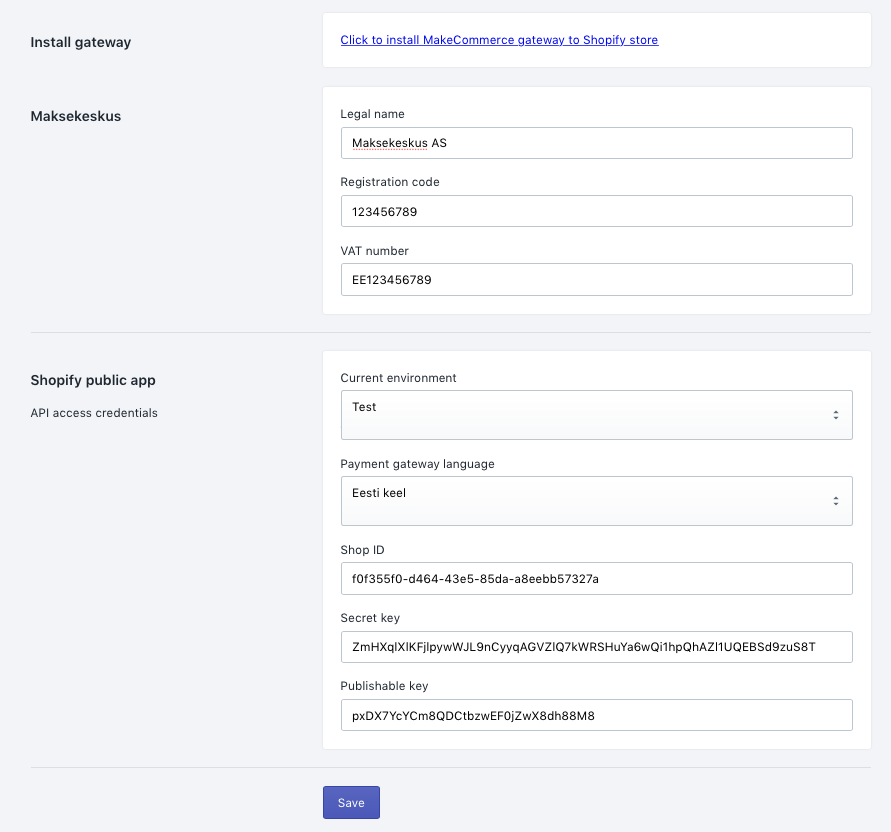 Save changes and after that click the "Click to install Makecommerce gateway to Shopify store" link at the top of the page.
Agree to terms again, by clicking "Install payment provider"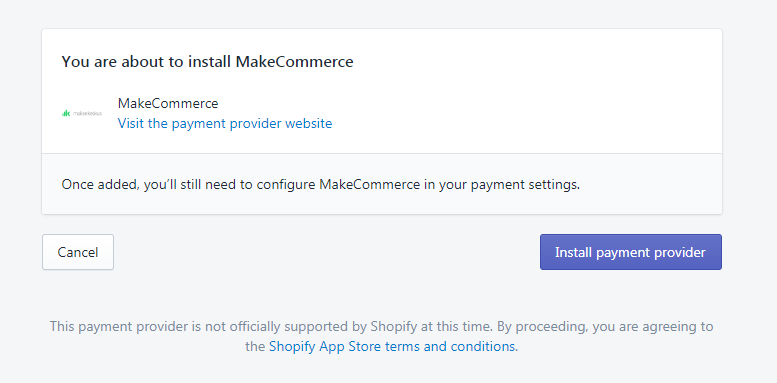 You are redirected to Shopify Payment providers page. In "choose alternative payments" find MakeCommerce. Enter your shop name, Makecommerce Secret key and save.

If your store name is xxx.myshopify.com, only enter xxx
API Secret key can be found in Maksekeskus merchant portal.
NB! If you wish to use the test mode and avoid Shopify transaction fees, please check the "Enable test mode" box. But you must remember to remove it when going live!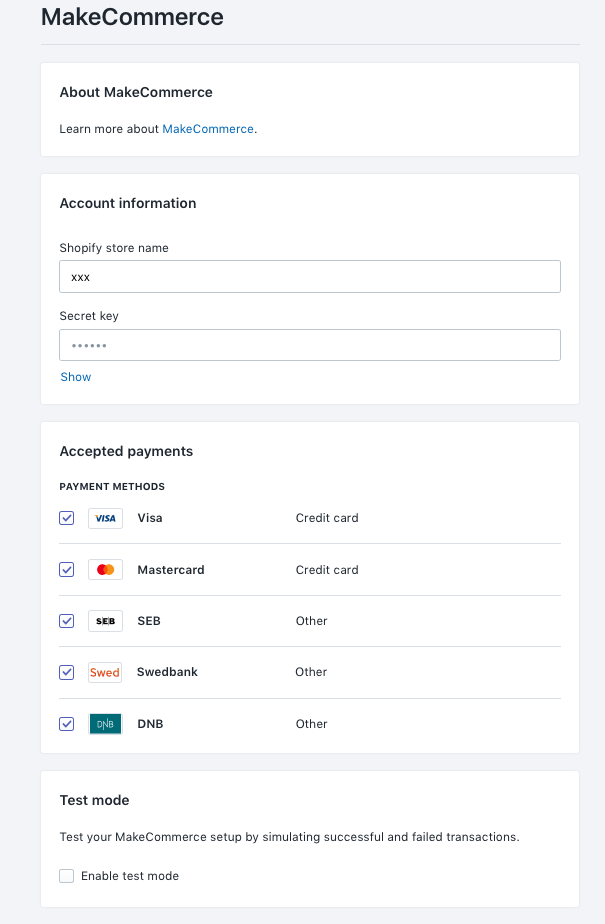 Shopify integration is done!
If during the payment you receive a Forbidden error then that indicates wrong API keys or that Shopify store name is wrong. Please recheck the settings.
Adding shipping methods
Besides payments MakeCommerce extensions also allows you to add shipping methods avoiding the need to install a separate extensions for that. Here's how to add shipping methods:
Visit the shipping settings on your Shopify store (https://yourshop/admin/settings/shipping) and disable all current shipping methods. This is very important, as having multiple shipping extensions causes errors.
Add shipping methods by country. Please note, that currently MakeCommerce shipping is designed for merchants who ship to Estonia, Latvia, Lithuania, Finland and Sweden.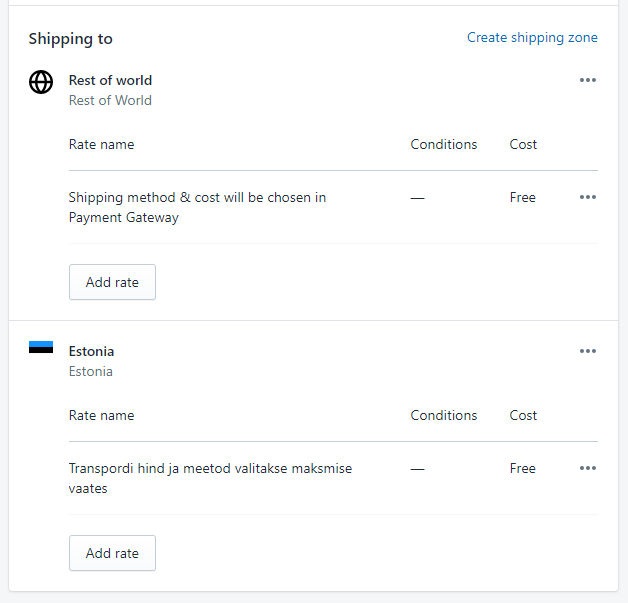 Before proceeding to add a new shipping method also add "TOS url", which can be found from the API settings.
Add a new shipping method only when the previous steps have been completed
After adding the first shipping method, please test it. If something is not working, please delete the shipping method and contact our support.
Shipping is created as a separate transaction in Shopify:

In admin view, the order will be shown as following:

Your clients will see the complete information regarding the order as follows: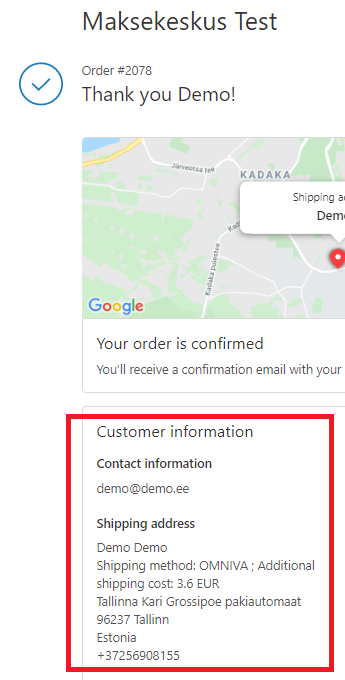 For the next step you'll need to remove the shipping address from the e-mail template. To do that go to https://yourshopurl.com/admin/email_templates/order_confirmation/edit (replace yourshopurl with e-poe domain) and remove the following. This is important, because the shipping address will be added later after the actual transaction is made on Shopify. This would potentially cause confusion for the client.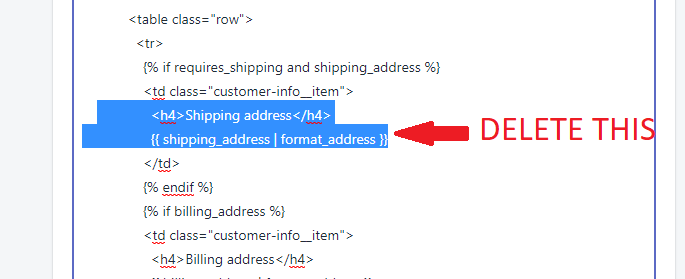 If you have followed the guide above correctly, you should now have working payments and shipping methods in your Shopify store.
If you do not wish to use shipping methods as part of MakeCommerce integration, do not add any and continue to use previously set up extension.